Working remotely can make or break your career, so it is important to be well-prepared. There are several things you should consider before considering a remote job:
1) Which industry will I work in? 2) How many hours am I willing to work per day? 3) What level of experience do they need from me?, 4) Do the benefits outweigh the drawbacks?, and 5) Am I able to switch jobs if things don't go well for me.
Working remotely can be a great way to work, but it is important to know what you are getting into before jumping into the unknown. This article will provide some tips and tools that will make working remotely easier. Read more in detail here: working remotely tips and tools.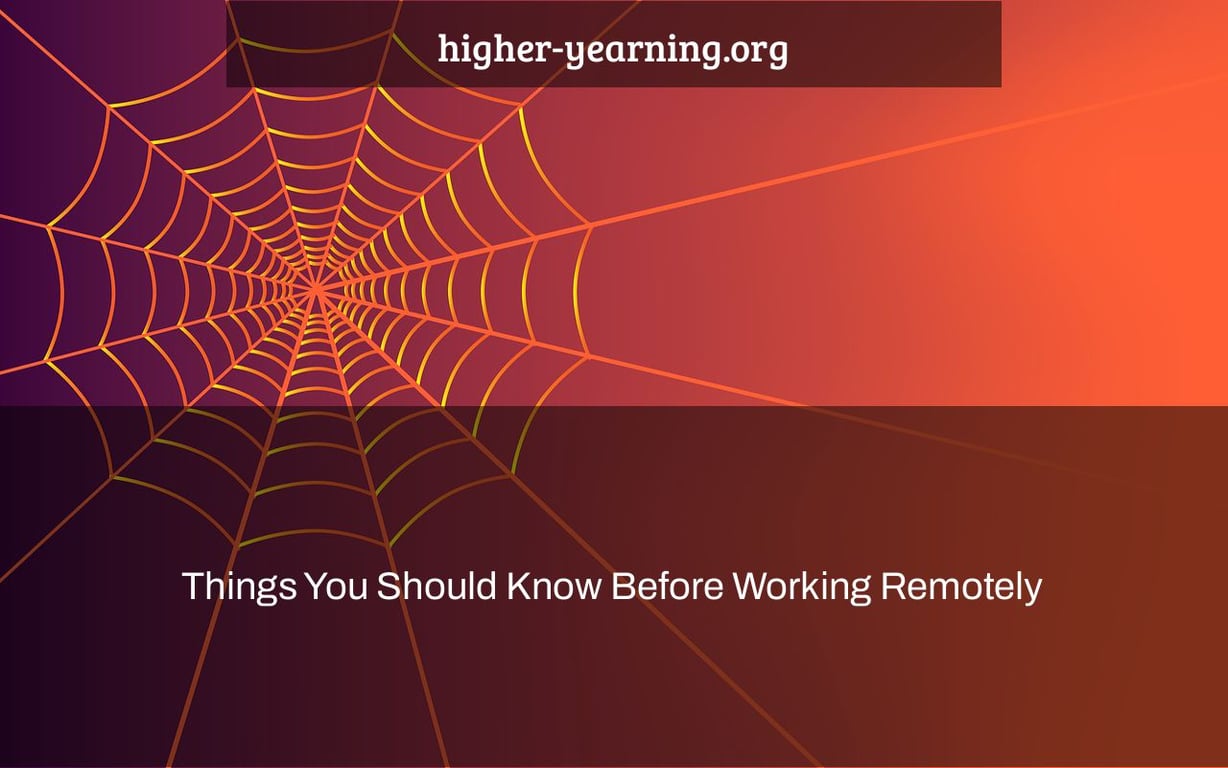 Remote working has become the standard for many firms in recent years, and there's no indication of it slowing down anytime soon. Not only does this save your company money, but it also means you'll spend less time commuting. Furthermore, it is becoming increasingly obvious that many individuals are more productive when they work from home. 
If you want to work remotely, however, you should not make this choice carelessly. To get the most out of working from home, there are a few things you should know ahead of time. Read on for our entire guide to remote working, which includes ideas on how to be productive when working from home, as well as information on how your company runs while you work from home.
1) It's Critical to Have Boundaries and Structure
When you work in an office, you'll almost always have a manager or someone in a similar position checking in on you and making sure you're getting your job done on time. As you may expect, remote working necessitates a higher level of independence and self-motivation. Finding precise techniques for remaining motivated in advance will help you set yourself up for success. 
Remove any needless distractions, such as your phone, and make it obvious to everyone you live with that you are working — some people find it difficult to grasp that working from home is still a full-time job. You may also use a tight framework to your job, such as the Pomodoro approach, if required. Working in twenty-five-minute chunks with a five-minute break will help you remain motivated, productive, and clear-headed while using this strategy.
2) Your employer may keep track of your activities.
According to a recent poll, a frightening 78 percent of businesses utilize software to monitor their remote workers. This may not come as a surprise to you, particularly if your employer has informed you that this is the case. However, you may not be aware that your company monitors more than simply work-related activity. 
You may be using a corporate laptop or connecting to your company's virtual private network. If one of these scenarios is true, your employer will be able to view every website or app you use during work hours, and they may even have access to private communications between coworkers. 
Even if this isn't the case, it's best to act as though your every action while working is being scrutinized. Don't send critical information in private chats, and don't use your work computer to access personal social media.
3) 'Work Anywhere' Doesn't Always Mean
If you've lately applied for employment that allow you to work from home, you may have seen caveats like'must be able to commute to [region]'. The majority of businesses are headquartered in cities, and many of them will prefer that you reside in the region.
This might be due to the fact that you'll be needed to attend meetings at their headquarters/office on occasion, or they could be providing a hybrid employment in which you'll just work remotely for part of the week. It might simply be that dealing with employees in the same time zone, for example, is simpler for companies. 
When applying for a remote job, don't overlook these prerequisites since they're typically non-negotiable. Some professions may merely demand you to reside in the same nation, but you should bear in mind that 'working from home' may still require you to travel on occasion or relocate.
When applying for jobs in the United States, bear in mind that certain locations provide more remote working alternatives than others.
4) You'll Need Your Own Workspace
While there are numerous advantages to working from home, it is easy to get sidetracked, and your productivity will suffer as a consequence. Perhaps you have noisy dogs or youngsters, or perhaps you've just failed to separate work and home life in the past. A dedicated work environment is necessary for every remote worker in any case. 
Working on the sofa or in bed is a problem waiting to happen; instead, invest in a desk and a suitable office chair. It's up to you where you put your "office," but think about where in your home will provide the least distractions and enable you to be productive and focused.
This should ideally be a location with plenty of power outlets and a strong WiFi connection. You may decorate your desk if it helps to make spending so much time at it more enjoyable. 
In general, starting to work remotely opens up a world of possibilities by saving you time and money while perhaps increasing your productivity. You can easily transition to working from home if you keep the information above in mind, and you can ensure that the best interests of both you and your employer are maintained at the forefront of everything you do.
More here: The Best Air Purifiers For Your Home To Prevent Pollution
Working remotely from home can be a rewarding experience, but it is also important to prepare for the challenges that come with working on-the-go. Reference: working remotely from home.
Frequently Asked Questions
What are the most important skills needed for working remotely?
A: In order to be successful in a remote job you need to have an understanding of the business culture and work environment, good communication skills such as verbal and written, strong interpersonal skills, open-mindedness and adaptability.
Do and donts of remote working?
A: The best way to remote work is to set up your computer with the most efficient tools, including a file browser and shortcuts. This will make you more productive because it's easier for you to find what you need when working remotely, but also keeps things organized on your main computer.
Related Tags
how to work remotely effectively
work from home guidelines for employees
benefits of working remotely
why remote working will die
disadvantages of working remotely