Ryan Reynolds, who is known for his various roles in Hollywood films such as Deadpool and The Proposal, has been putting out some of the most hilarious promotional videos ever. A recent one was posted on Wednesday that features a classic 1980s sitcom called Diff'rent Strokes with Arnold Schwarzenegger playing Mr. Drummond.
The "live in front of a studio audience" is an advertisement that aired during Diff'rent Strokes and Facts Of Life. The ads were created by Ryan Reynolds' Maximum Effort, which also produced the show.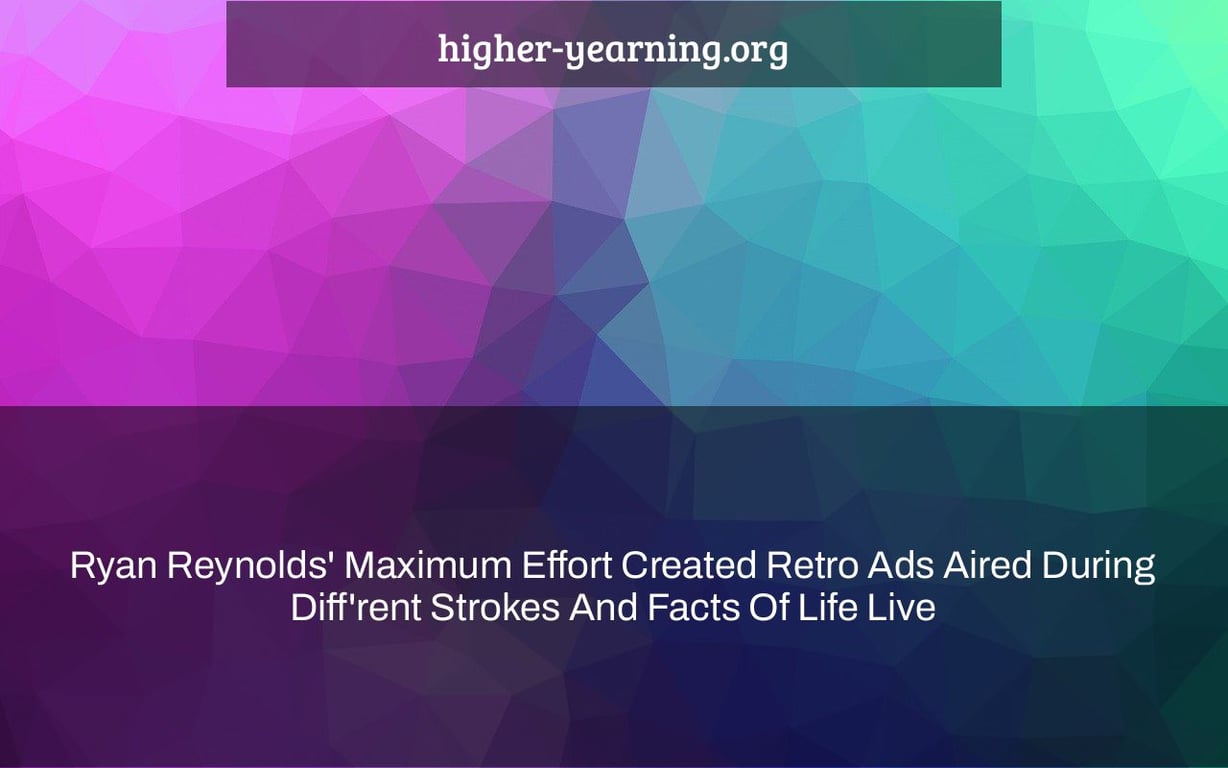 Last night's Live In Front of a Studio Audience didn't simply seem like a flashback to the 1980s in terms of programming. Ads with a very vintage flavor aired during re-staged episodes of Diff'rent Strokes and Facts of Life. The advertisements, which were lauded as a terrific addition to Jimmy Kimmel Live, were reportedly produced by Ryan Reynolds' Maximum Effort in collaboration with the Jimmy Kimmel Live team. While the live component of the event is gone in the blink of an eye, the advertisements will linger on owing to the internet.
Whether it's Maximum Effort or someone else, it is probable that this strategy will be continued in future Live In Front Of A Studio Audience events. The commercials generated nearly as much interest as the image of John Lithgow holding Kevin Hart like a baby on the internet.
The tweet is seen below.
So proud of the @maximumeffort and @jimmykimmel teams for our #LiveInFrontOfAStudioAudience 80's advertising fever dreams. https://t.co/oROGmA7kym
December 8, 2021 — Ryan Reynolds (@VancityReynolds)
Diff'rent Strokes was a television series created by Jeff Harris and Bernie Kukoff that aired on NBC from November 1978 to May 1985 and then again from September 1985 to March 1986. It featured Gary Coleman, Todd Bridges, Conrad Bain, Dana Plato, and Charlotte Rae. From August 1979 through May 1988, NBC broadcasted The Facts of Life, a show starring Rae and developed by Dick Clair and Jenna McMahon. The series was a spinoff of Diff'rent Strokes, and it followed Rae's Edna Garret, who had previously worked as a maid on Diff'rent Strokes, as she became the housemother of a private all-girls school's dormitory.
In spring 2019, Live in Front of a Studio audience premiered with all-star cast recreations of episodes of All in the Family and The Jeffersons, followed by another episode of All in the Family and the pioneering comedy Good Times in winter 2019. The Sony Pictures Television special Live in Front of a Studio Audience: All in the Family and Good Times, which aired on linear and digital channels, had approximately 13 million total viewers. In addition, after 35 days of delayed watching across all platforms, the holiday-themed live event averaged approximately 8 million total views.
Norman Lear, Jimmy Kimmel, Brent Miller, Kerry Washington, Will Ferrell, Justin Theroux, and Jim Burrows will serve as executive producers for the special event. Mr. Drummond will be played by John Lithgow, Arnold will be played by Kevin Hart, Willis will be played by Damon Wayans, and Mrs. Garret will be played by Ann Dowd. Jennifer Anniston will play Blair, Gabrielle Union will play Tootie, Allison Tolman will play Natalie, and Kathryn Hahn will play Jo in The Facts of Life. The show will be followed by a special early debut of Quinta Brunson's new series Abbott Elementary, which she also executive produces.
"There's no place I'd rather be in my 100th year than on a Sony soundstage with these magnificent performers remembering what our business had done all those years ago and sharing it with the millions of viewers who could need a little laughing," Norman Lear said in a statement.
Watch This Video-
Ryan Reynolds' "Maximum Effort" created retro ads aired during Diff'rent Strokes and Facts of Life Live. The ads were created by Ryan Reynolds, who is a part-owner of the show. Reference: is todd bridges still alive.
Related Tags
different strokes actors
cast of diff'rent strokes
kimberly drummond