"We came to the end of our life together," says my mom, "and now I am lonely." Loneliness is a pervasive problem in America. one estimated that 41% of Americans over 50 years old are single and alone after their partner dies or leaves them. If you're struggling with loneliness-whether it's familiar pain from losing someone close or an unexpected result from divorce-, there are many resources for support on your site
The "how to rebuild your life after death of spouse" is a blog post that talks about how the author was left alone in her marriage, and how she rebuilt her life after his death.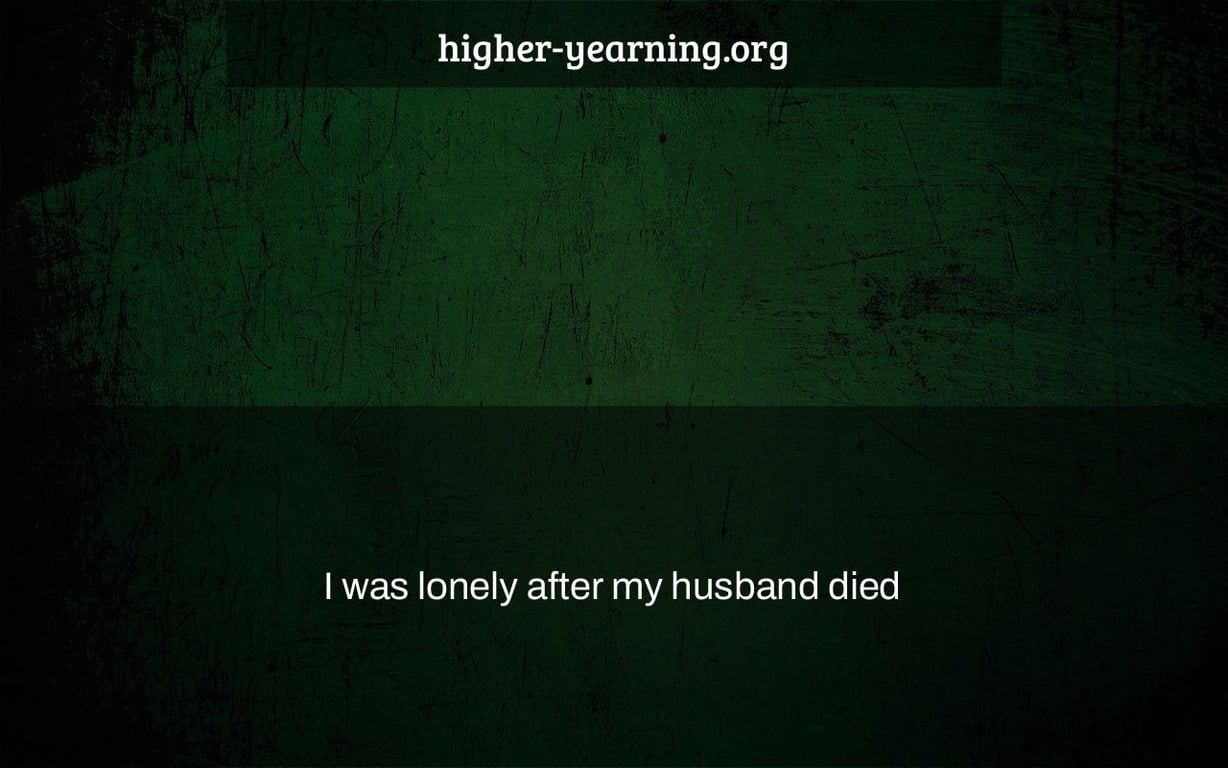 I realized I was feeling quite lonely and alone, with no one to speak to save my cat (Picture: Re-engage)
'Would you want a cup of tea?' says the narrator. In 2015, I asked my husband Peter on a chilly winter evening.
He said, 'Oh sure, that would be lovely.' I was holding his hand at the time, but I saw he wasn't breathing normally, so I sat with him for a while.
He died suddenly minutes afterwards, with me at his bedside — it was three days before Christmas.
The remainder of the holiday season was a haze of trying to plan his burial, and I was numb the whole time. That Christmas was a far cry from our regular family gatherings, which were filled with laughing.
It was a horrible day when I lost my spouse, who was my closest friend and with whom I did practically everything. But I didn't anticipate how lonely I'd get.
In August 1945, Peter and I met while serving in the armed forces in Scarborough. We simply sat and spoke for a long time at a dancing gathering hosted by one of the local churches. His wicked sense of humour, as well as the fact that he was a kind guy, were both appealing to me.
We were engaged by November of that year. We ended up serving in Egypt together for a time before returning to the UK to marry in 1948 and start a family of four children.
For both of us, things slowed down once we retired (Picture: Re-engage)
Our marriage was ideal since we had so many interests and did nearly everything together — we both liked reading and gardening. It was a typical marriage, according to many.
Christmas, in particular, was a joyous occasion for us. We'd never put up the decorations until Christmas Eve, but it'd be a fun activity for the entire family to do when the kids were still at home. Peter would prepare Christmas supper, and we'd all gather together to exchange gifts and walk the dogs – including my husband's mother.
Things calmed down for both of us once we retired, and we spent our time in the garden, working with charities, and visiting our children and grandkids as often as we could.
Then, when we were in our 70s, we were walking to the bank and stopped at the neighborhood stores. I believed Peter was following me but couldn't see him when I turned around. I glanced around and was surprised to see him standing in the middle of the road, perplexed.
I approached him and inquired as to what he was doing, but he had no recollection of where he was or why he was there. That's when I realized something wasn't quite right.
Soon after, he was duped by a man selling carpets out of the back of his truck. This guy drove him to the bank to withdraw cash, which was utterly out of character for Peter.
So we went to the doctor, and he was sent to a memory clinic to be checked out. They diagnosed him with dementia at that point, and we were both horrified.
Things began to deteriorate from that point forward. It was little things like forgetting he was married and had kids. Then he became angry, most likely because he was irritated with his inability to remember what he was doing or where he was.
He suffered a terrible tumble at the end and wounded his head, so he ended up in A&E. He went in and out of care for the next six months or so until he died because I couldn't handle it alone.
I attempted to mourn as best I could after his death, but I immediately realized that many of the support networks I had set up before Peter's health began to deteriorate were vanished. I had been so preoccupied with his care that I had stopped going grocery shopping with my pals or keeping up with my neighbors.
I realized I was feeling quite lonely and alone, with no one to speak to save my cat.
I informed one of my few friends about Peter's death around a year after he died, and she told me about a sign she saw on a bus about a company called Re-engage (previously Contact the Elderly), and she gave me their phone number.
I wasn't sure at first, but I phoned them anyhow, and they were quite kind. They handed me a paper to complete up and informed me that they were forming a new little group of older people in the area.
A few weeks later, there came a knock on the door, and it was Veronica, a charming woman. She presented herself as my transportation for the next Sunday social function, which would be an afternoon tea.
I've discovered a tiny family, and I'm overjoyed (Picture: Re-engage)
Being there and meeting new people – some of whom were in the same boat as me – was a wonderful experience, and I felt at ease in their company. I enjoyed the entire thing so much that I vowed I'd be returning for the next event a month later.
That was around five years ago, and I've been a member of the group since then. I'm one of just three originals, in fact. Since then, we've done some incredible things, such as watching Swan Lake at the Royal Opera House and taking guided tours of the British Museum.
Of course, we still like getting together for tea at people's houses – or even just phoning and texting to keep up.
more: way of life
I've discovered a tiny family via this social network, and I couldn't be happier. The epidemic made things more difficult, but our group's organizer, Stephanie, and her family have been amazing. They've brought us medications, taken some of the group members to medical appointments, and even simply waited in my driveway to see how I'm doing.
I consider myself really fortunate to be a member of the group, and I would urge others to do the same in their own communities. It's been quite beneficial to me.
Even though I still get lonely from time to time, I have my cat and a large group of friends that I feel I can rely on anytime I need them, and I'm grateful for that.
If you or someone you know is over 75 years old and would like to attend an afternoon tea sponsored by Re-engage, visit their website here or contact their free phone line on 0800 716543.
Do you have a personal story to tell? Email [email protected] to get in contact.
Leave your thoughts in the comments section below.
MORE: I understand Jessie J's pain — miscarriage as a single mother is isolating.
MORE: 'I feel bad about not doing more in life to help them': Will you be bringing your aging parents into your home?
MORE: A 100-year-old widower is surprised to get 700 birthday cards from strangers.
Watch This Video-
"I was lonely after my husband died" is a story about living on your own after bereavement. It's a really interesting read and I recommend it.
Frequently Asked Questions
How do you go on after your husband dies?
A: In the second act of The Hunt, you can go on in several different ways.
How can a widow overcome loneliness?
A: It is difficult to overcome loneliness, but there are a few strategies that can help with this. One of the best methods for overcoming loneliness and social anxiety is through community involvement. This includes joining clubs, volunteering at organizations that focus on helping people in need and spending time interacting with peers either online or offline as much as possible.
How long does grief last after death of spouse?
A: After the death of your spouse, grief will last for an average of two years.
Related Tags
my husband died and i have no friends
living alone after death of husband
how to live alone after your wife dies
my husband died and i feel lost
traveling alone after death of spouse