Data management is a pervasive problem in the 21st century. Data can be stored anywhere and accessed from any system, making it difficult to manage and destroy once its life cycle has ended. It's also so much easier than ever before for data to go missing without anyone noticing! This article will take you through some steps that your company should follow if they want their data handled properly when it leaves or enters your systems
A data management strategy is a systematic approach to managing your company's data. This article will provide an example of how to implement one more effectively.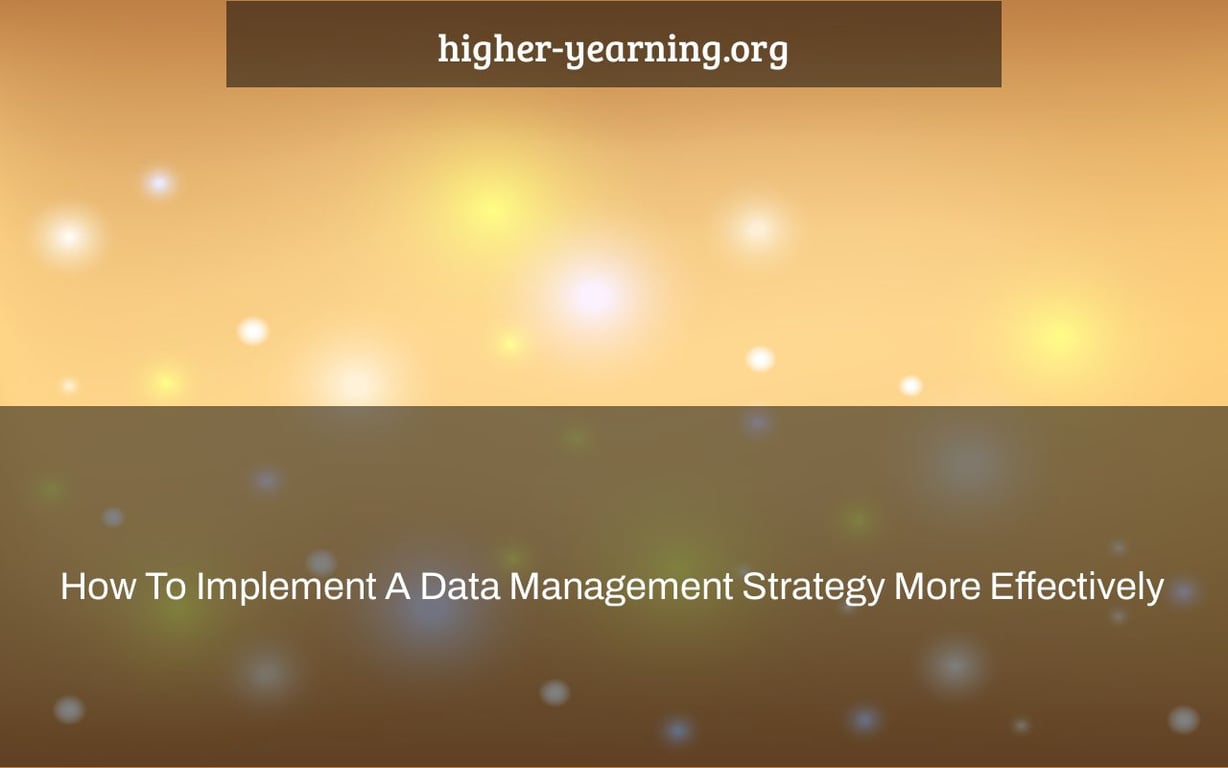 Data is a resource in business, and good data management is a component of resource management. As a result, you should have well-defined data collecting, storage, validation, and protection processes in place.
Users may trust data that has been well-managed since it is trustworthy, timely, and accessible.
It also provides advantages like as cost savings, increased productivity, adaptability to change, and precision in corporate decision-making.
Many firms in the United States are data-driven, creating and processing vast amounts of data. As a consequence, in order to assure data security, integrity, and correctness, excellent knowledge is required.
This might be a problem for both small enterprises and major organizations.
If this fits your company, you should consider hiring IT businesses in Dallas or other renowned organizations in your area to provide expert managed services.
Here are some tried-and-true best practices to assist you improve your data management efforts.
1. Use a logical file naming scheme.
You'll need to establish a user-friendly system with standardized file names that can be quickly accessed if you want to succeed with data storage and retrieval.
Your storage system should utilize file formats that make it simple for users to search for and locate data sets.
2. Make Your Data Sets Metadata-Friendly
If you're not sure what metadata is, it's a description of the data that's been saved. It's a summary of the data's content, rights, and structure that makes it searchable in the future.
The data creator, description fields, kind of data, where, how, and why the data was generated are all possible elements to add in your description.
This kind of data structure aids in the tracking of data from its source to its destination. It's also simple to record and map pertinent data.
3. Make a list of your objectives and strategies.
To set realistic objectives, you must first understand your data requirements. Try answering the following questions while outlining your objectives and strategies:
What issue are you attempting to resolve?
What data requirements do you have?
When do you need real-time data?
Is your organization equipped with the necessary expertise?
How are you going to connect and relocate data silos?
These questions will help you determine if your current data management structure is suitable for your short- and long-term objectives.
Furthermore, you may enhance your company's strategy by returning to these questions once you've developed them.
4. Determine the kind of storage media you'll use.
After the data has been gathered and formatted, it must be properly stored for eventual retrieval. Choose a plan that fits your company's goals and budget. A technique that works for small firms may not work for giant corporations.
As a result, take your time to consider your company's requirements. Consider issues like scalability while selecting storage media.
Will the storage medium you want to utilize be able to accept future expansion or perhaps other modifications without having a negative impact on your business processes?
Laptops or desktops, cloud storage, networked drives, optical storage, flash drives, external hard drives, and simple access to data are all examples of storage media that may be significant to you.
5. Have a backup plan
As you may be aware, unpleasant events may arise that result in data loss or corruption. As a consequence, having your data backed up and ready to restore is essential.
This may be accomplished by establishing a separate server in your organization that is not physically situated on your premises. If your facilities are destroyed by a natural catastrophe such as a fire, earthquake, or hurricane, this server may be turned on to keep business operations functioning.
Furthermore, if you primarily depend on external media that you could lose, such as external hard drives, cloud storage may be a good option.
6. Use Data Management Software That Is Of Good Quality
This is an important best practice for data management. A professional data management tool can assist you in creating data sets and extracting the information you want for your everyday operations.
Furthermore, it can integrate both external and internal data assets, as well as build the optimal governance approach for you.
Data analytics may be done effectively with the right tools.
You may learn about the growth of important organization departments including marketing, sales, warehousing, and customer service utilizing analytics.
When your data is properly examined, it becomes a valuable resource for making educated decisions. With data management software, you can also create business reports and display your data using charts and graphs.
Additionally, you may sanitize your data using a professional tool. Duplicate information should be deleted, old data should be removed, and needed new information should be updated.
7. Put in place data security
When it comes to professional data management, data security may be a top issue. It's critical to have a strong data security plan in place in an environment where it's impossible to carry out business procedures totally offline.
Because of recent developments and occurrences, the majority of corporate procedures are now conducted online. As a consequence, any organization is vulnerable to cyber-attacks and viruses, such as ransomware.
An assault on your company's data that is successful may have disastrous effects.
For example, your company's reputation may suffer as a result of loyal consumers leaving to use the services and goods of your rivals.
Clients who seek recourse in a court of law owing to the disclosure of their private information may face costly consequences in the hundreds or even millions of dollars.
When it comes to data security, make sure you have the most up-to-date data management software to combat current cyber threats. Implement password security safeguards for your software's users as well.
You may also restrict data access by requiring workers to just look at work-related data and prohibiting them from looking at other information.
Furthermore, you may create a virtual private network to prevent outside traffic from entering your network.
Conclusion
If you want clean, trustworthy, and accurate data, you can't afford to ignore good data management methods. As a consequence, you should use the best practices outlined in this article to guarantee that your company's data is safe from loss and tampering, as well as to create a backup restoration point.
Watch This Video-
The "data management strategy for school" is a process that helps schools to implement data management strategies. This will help them to create better and more effective plans for their students.
Frequently Asked Questions
How do you implement data management strategies?
A: Data management strategies are a set of actions to prevent data from being lost or taken out of context. They can include using database triggers, maintaining backups and regularly deleting old files in order to keep the information relevant.
How do you manage data effectively?
A: I use a virus scanner to scan my system for viruses.
What makes a good data strategy?
A: The best way to answer this is by giving a breakdown of the different types. For starters, there are three main categories that can be broken down into even more specific metrics and tactics for collecting data from users online. These categories include website analytics, purchase behavior research and social media marketing.
Related Tags
data management strategy pdf
data management strategy template
types of data management strategy
data management strategies in research
data management strategy document