Daniel Jeremiah of NFL Network believes that the Minnesota Viking's selection of a lowly workout warrior in the 2018 draft will have serious consequences on their future success.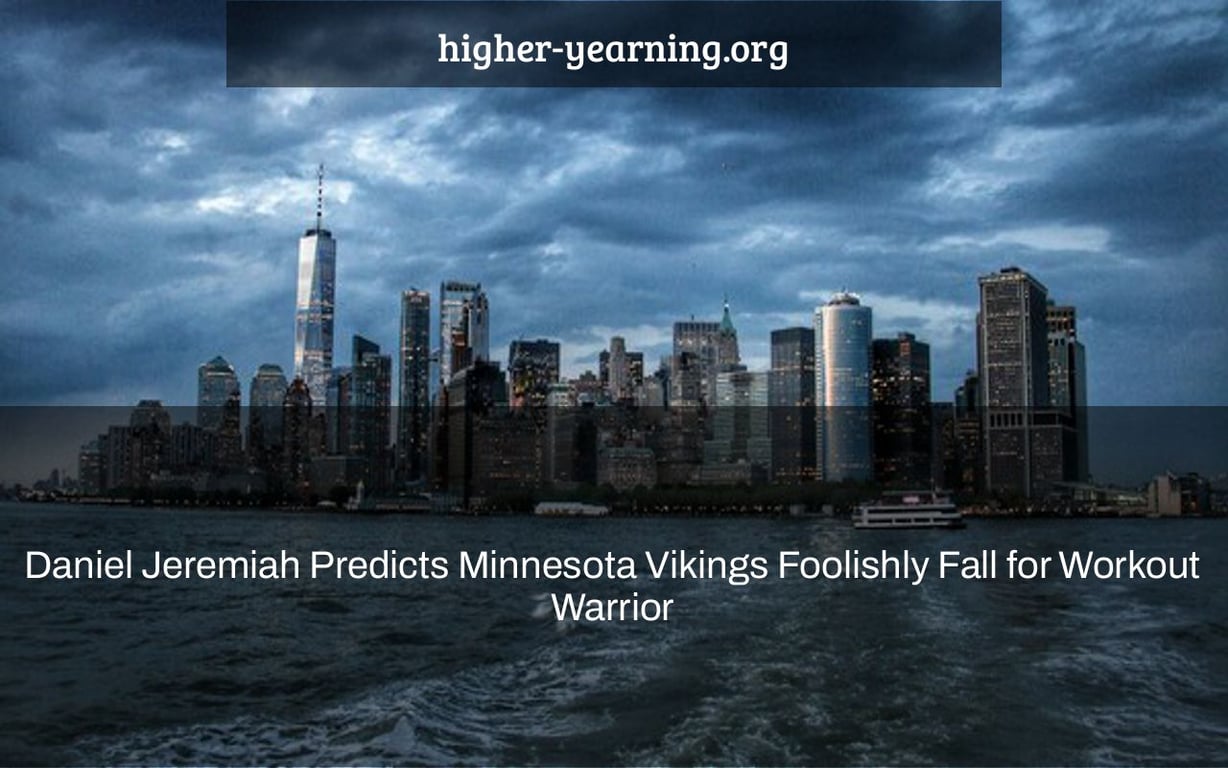 It occurs on a regular basis. Some club will undoubtedly fall for the workout warrior, the combine hero, and reach for that guy in every NFL draft. Georgia defensive lineman Jordan Davis was the guy that stood out at the combine this year. The Minnesota Vikings, according to NFL Network draft analyst Daniel Jeremiah, are the club that may fall in love with Davis' workout stats and take him higher than he deserves.
Jordan Davis of Georgia dominated the NFL Draft Combine in 2022.
Jordan Davis is a colossal figure. According to GeorgiaDogs.com, the Charlotte, North Carolina native dominated the defensive line for the Georgia Bulldogs for four seasons, piling up 91 tackles, 12.5 for a loss, and 7.0 sacks in 47 games.
For one of the top defenses in college football, he clogged up the middle and hindered opponents' rushing assaults. Georgia won its first national title since 1980, thanks to a defense that includes first-round NFL draft prospects Travon Walker, Devonte Wyatt, and Nakobe Dean.
Davis, a run-stuffing nose tackle in the NFL, entered the combine as a late first-round pick. That changed once he started working out.
Davis was 6 feet 6 inches tall and weighed 342 pounds. Davis' ranking rocketed significantly after a performance that ESPN draft analyst Todd McShay described as his "Mt. Rushmore of the combine."
The defensive lineman ran a 4.78 40-yard sprint. That was quicker than half of the quarterbacks and numerous tight ends and linebackers who ran at the combine. His 10-foot-3-inch broad leap established a new event record for guys weighing more than 300 pounds, and his 32-inch vertical was second among defensive tackles.
It was a fantastic performance that demonstrated Davis' remarkable athletic ability. It was, however, done in shorts and a t-shirt, rather than in an actual football game.
The Minnesota Vikings are expected to choose Davis at No. 12 overall, according to Daniel Jeremiah.
Jordan Davis was thought to be an outstanding run-stuffing nose tackle in a 3-4 defense before his spectacular combine performance, but he wouldn't be able to remain on the field for passing downs.
Some clubs believe Davis has latent pass rush talent to overcome guards and centers and chase down quarterbacks in the pocket, based on the sort of exceptional athleticism he shown at the combine. He could also play in a four-man front and sub-packages, giving him additional scheme adaptability.
The only issue is that he's never shown it on the field.
For some clubs, it won't matter after viewing Davis' figures. An organization will fall in love with the massive lineman's potential and promote him higher than he should be.
The Minnesota Vikings, according to NFL Network's Daniel Jeremiah's newest mock draft, might be that club at No. 12. "Davis is a terrific run defender with lots of untapped potential as a pass rusher," Jeremiah writes to justify this selection. (Did you see the 6-foot-6, 341-pounder's performance at the NFL Scouting Combine?)"
Even if this is true, it would not be a wise choice for the Vikings. Not only because it's too expensive for a guy who may never be more than a (decent) 25-play-per-game run stopper.
Why should the Vikings pass on Georgia's run-stuffer? 
Michael Reaves/Getty Images/Jordan Davis
On defense, the Minnesota Vikings have a few openings to address, and a hybrid defensive tackle might be a nice selection at some point.
The club could need a run stopper who can also rush farther out along the line on passing downs, especially with Danielle Hunter, D.J. Wonnum, and now Za'Darius Smith on the outside. On run downs, a guy like that would enable the team's pass-rushing specialists to relax.
With Dalvin Tomlinson and newly-signed free agent Harrison Phillips, he'd also provide the Vikings' new defensive coordinator Ed Donatell — who's ran several fronts in the past — a good three-man rotation at DT.  
The problem is that although another defensive tackle would be wonderful, it isn't the Vikings' most urgent defensive need. Cornerback is.
The Vikings will likely pass on Cincinnati CB Ahmad "Sauce" Gardner at No. 12, but they should be able to get one or both of the next two finest cover guys in the draft, LSU Derek Stingley Jr. and Washington's Trent McDuffie.
If one of those guys is available at No. 12, the Vikings must choose one. It would be a mistake for new general manager Kwesi Adofo-Mensah and head coach Kevin O'Connell to choose a luxury like Jordan Davis, who may not even be that much of a luxury once the pads are put back on.
Like Sportscasting on Facebook. Follow us on Twitter @sportscasting19.
RELATED: What the Minnesota Vikings' Offseason Game Plan Should Be in 2022